Today I'm going to talk about how to stop worrying & start creating results for your business . I usually work and run into some business owners that are so worried.
What they do is they go throughout the day, the week, the month, the year, worrying about things and not actually getting things done.
If that is you, and if that's what your experience, keep reading, or if you know someone that is worried all the time, keep reading.
What happens is these guys act like they're doing things, and they get busy worrying about things, but they actually don't get things done.
And why does this happen?
WHY DO WE WORRY ABOUT THINGS?
We have so much in our head as an entrepreneur and business owner
We're lonely, I mean, running a business is a lonely world, not very many people around us and family and friends. You know, and you know, we're on our own making decisions and trying to make things happen. So we get lonely, and not much support, not much accountability.
Most of the time when business owners are worried about things throughout the day, they have no goals, there are no plans, and there's no strategy to reach those goals.
If you don't have any goals, plans and strategies to get to where you want to go, if you don't know where you're going, you lose your confidence, you become very insecure, you start worrying about things your brain starts developing fear and frustration. And instead of being productive you go throughout the day, and before you know what a week is gone, a month is gone, and you haven't done much and you're not getting results.
The results that this worrying creates, is nothing! You get either very little done when you're worried about things, or you get nothing; like zero, nada!
As a result, your business suffers, your family suffers, your staff suffer, your bank account suffers, your customers suffer because
Instead of delivering the product or the service that you promised them, you're spending your time worrying about things, like not doing things that you're supposed to do, not being productive.
I am going to share a few tips here that I found on worrying and here are some stats that I found and learned from Earl Nightingale and I'm going to share with you.
Hear me out, very alarming.
40% of all things that we worry about never happened!
30% have already happened and we can't do anything about it.
Example: Somebody said something, an accident happened, something happened in the past that right now we cannot really do anything about it. 
12% are needless worries about health such as: what if I get sick, what if I get cancer, what I got this and that, so 12%!
10% are petty miscellaneous issues. 
So tiny, tiny little things, and we worry about it. And then our brain spends an hour being the drama queen that our brain is. And it's really good at creating all these fantasy stories. And then before you know it, you spent a few hours or days,  going through a fiction story that does not exist!
Our brain is really good at that!
For the top 30-40% of the stuff that there's just no chance that they could happen, or it happened in the past, or it's just unimportant stuff. 
About 90% of our time is spent on things that either never happened, already happened, needless worries about health, and petty miscellaneous issues that, again, don't matter. Only 8% of our worries are real worries. Out of that, one half of that you can do very little about it or you can really, you cannot do much about it.
And then the other half, you can actually do something about it.
It's only 4% of your worries that you can actually do something about. These are valid worries, and you got to do something about it. The rest of the 96% of your worries are wasting your time.
How do you identify real worries? And how do you fix them?
SIMPLE QUESTIONS TO IDENTIFY REAL FEAR
Here are a few simple questions that you can ask yourself to identify real fear: 
1- When you find yourself if you catch yourself or if you catch your brain creating a fiction story that doesn't help you, or it really pisses you off and makes you angry, ask yourself,
Is there a chance of this happening? If the answer's no, what happens is when I asked myself any of these questions, and if if the answer is no, my shoulders and my neck just relaxes, and I go, oh my god, I just spent two hours worrying about something that either is not happening or happened in the past, or I have no control over, it whatsoever.
2- Has this happened already in the past? And can I change anything about it?
If the answer is no, your shoulders are going to relax? Am I worried about useless stuff, like worried about my shoes at the party tonight, or my dress, or things that we worry about that don't really matter. There is like a very long list.
4- Can I do anything about it? What I'm worried about, if you wake up at three in the morning, and you're worried about something at three o'clock, you really cannot do much about what you're worried about.
Your job here is to go back to sleep, get some rest, get up in the morning, well rested, and then start tackling the problem, right?
But, three o'clock is not a good time to tackle problems. So you go back to sleep, and you get some good rest.
For the real worries for the 4% or less that you can do something about it, ask yourself:
1- Do I have a plan for this? If the answer is no, start writing down and start brainstorming about a plan.
2- Do I need to consult with someone about this? because I don't know how to fix this problem. It's very refreshing when you pick up the phone and ask someone that knows about this problem, say: hey, how can I fix this problem? And they'll go, Oh, you know, it's so easy: Just get this app or talk to this guy or just try this and it's fixed.
And you go really?! I just spent a month and half worrying about this and I lost my sleep! And you say it's so easy?! 
And they say, Yeah, it's so easy. Just try this and it's fixed. Right? 
So that is how to fix your worries!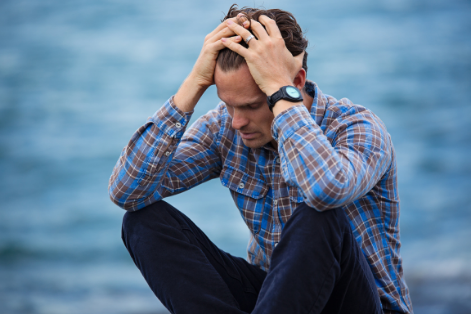 3 STEP PROCESS TO REDUCE FEAR, FRUSTRATION AND STRESS
Here are some more tools that help you as a business owner, to reduce your worries, fears and frustrations and stress, they help you become more confident and less insecure!
1- CREATE A TO-DO LIST EVERY MORNING
First thing in the morning, for every manager every business owner: you must create a to do list. And you must spend five or 10 minutes prioritizing the items on the list. Okay?
When you do this, your worries go out of the window.
We get worried and insecure and fearful when we don't know, when there's some unknown coming and we don't know how to tackle the problem, then we become fearful and worried.
But when you create a to do list and you prioritize your worries, go out the window.
2- START TRACKING YOUR TIME
If you go throughout the day, the week, the month, the year, and you're not getting results, chances are your time is being wasted on things that don't matter. So what you want to do is you want a statue, start tracking your time, and figure out what you do throughout the day, every hour, and then start analyzing and after week can see, okay, here's where I'm spending most of my time. And here's what I can do instead.
That will reduce your worries, knowing what's happening.
Without tracking your time, you wouldn't know what's happening. And I read about this, and The Effective Executive from Peter Drucker, who talks about this. And I've actually done it with my coach two or three years ago, and very recently, myself, again, to track what's happening where I'm spending most of my time, right? start tracking your time, and it will reduce your worries.
3- WORK WITH A QUALIFIED COACH
Start working with a qualified business coach
. As long as you have support and accountability and someone can give you some outside perspective on what you're doing, how you're spending your time and what you should be spending your time on, then you instantly improve your results, you become more productive, and accountability and support all help you in your business.
So you're worried less and you get things done instead of going throughout the day, and worrying about your phone not ringing so you could do something about it.
5 Tools to help you learn a new skill and get rid of your fear and worries
If you're worried about a new skill, let's say you're going to present in front of a room of people, and that you're just worried and you haven't done this before. Here are a few things you could do to reduce your worries.
Read a book on presentations, or the task or skill that you're worried about
Watch some YouTube videos about the skill 
Listen to a podcast on your topic
Read a couple of articles about it
Practice what you learn!
If you do this, you learn some ways to tackle that problem. It reduces your worries, AND now you can start practicing and getting better for the presentation instead of just worrying about it and losing your sleep.
Hope these tips help if you want to take your business to the next level, I'm offering a complimentary "Reduce my stress and increase my productivity coaching session", through which we will identify your number one challenge and create a plan to tackle that challenge your number one challenge reduce your worries and fears and frustrations and take you to what you want and what you dream about.
This is a complimentary coaching session. You will walk out of this with a plan with less stress knowing exactly how you should tackle your problem. And walk out with a plan to overcome your number one challenge and reduce your worry worries and sleep better and get more productive
To book the coaching session. Go to persyo.com/apply/ it's persyo.com/apply/ And then you can book the session and it's a free one to one coaching session.
This is a real coaching session that you will get a lot out of it.
Usually, people walk out of this coaching session with smiles on their faces knowing what they want to do and how they're going to take their business to the next level.
Anyway, hope these tips help you reduce your worries and stress and reduce your fears and frustrations, and allow you to be more productive especially with the to-do list.
Doing the to-do list is really really really powerful!
If you wanted to get the Reduce my stress and increase productivity coaching session, go to persyo.com/apply/. On that page, I ask you a few questions to know more about you and your business so that I can prepare for the coaching session and come up with a solution for you.
Hope you enjoyed this post
Please like and share the video/post
Leave a comment, and let me know what you liked about this post and what you learned from it!
Share it with someone that you know needs help with their business and marketing and offer them this business gift.
I'll be happy to walk them through how they can fix those problems and tackle the number one challenge
Mostafa Hosseini, your business and marketing coach
Have yourself a great day
PS: What did you like about this post? Leave a comment below and let us know 🙂