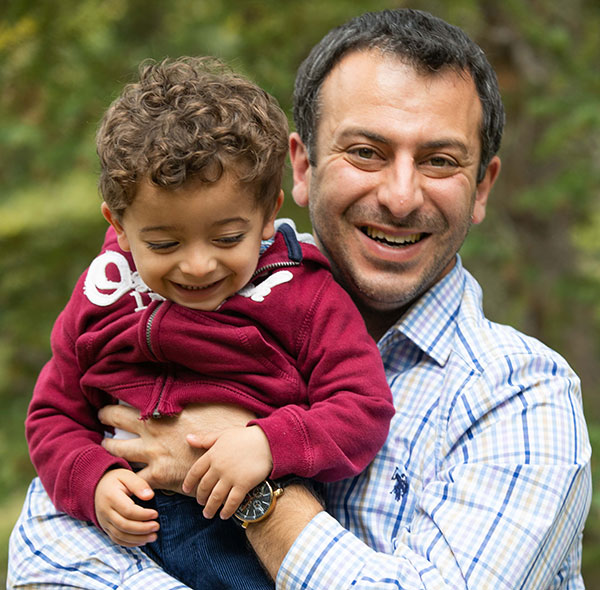 I grew up in an environment where finances were usually a problem.
One side of my family were business people and the other side were all academics and engineers.
As a child, I noticed that the business people in my family were usually making more money, they were happier, they were taking more vacations, and generally, they were enjoying life a bit more.
So from an early age, about five or six, I decided that I want to grow up and become a businessman, and run my own business.
I enrolled in the engineering school at Mount Royal University back in 2001. I did engineering for two and a half years and I realized engineering was not for me!
I dropped out of engineering school and got into the business school. 
That's when the real magic started happening!
I would show up to classes and I truly enjoyed almost every class that I had, except maybe for a few that either I didn't like the course or the instructor.
I got a diploma in marketing management and a bachelor's degree in business management with a minor in marketing from Mount Royal University.
I also have a diploma in engineering as well (a general Arts and Science diploma)
Back in 2003-2004, in Google's early days, I was exposed to the self-help world.
 I was thinking that I want to become a businessman and I want to be a damn good one.
I started looking around and tried to find answers to:
What do I need to get there?
What do I need to study?
What do I need to learn?
What skills do I need to learn?
and more. 
In this process, I got exposed to guys like Tony Robbins, Jim Rohn, Brian Tracy, and a very long list of self-help gurus and business gurus that are out there helping people grow and scale.
I learned from Jim Rohn that if you want to learn something, you have to go to the expert so he or she could teach it to you; instead of you trying and wasting your time figuring it out. Right?
He also said that successful people hire somebody to help them either as a mentor or as a coach. So I went around and found mentors and coaches to guide me with my business, and it worked!
Back in 2007, I read Rich Dad Poor Dad by Robert Kiyosaki, which was pretty much the story of my life.
I grew up in a family where finances were always a problem; my dad was working hard, going to work at five in the morning, coming back in the evening. We didn't spend too much time vacationing or spending one on one time with my dad.
The book helped me confirm my ideas about running my own business, being my own boss, helping other businesses grow, and just entering the business world.
Family
I am very, very big on family and really love my family; everything that I do is about family and my children. I love to spend time with my wife and kids. Therefore, that's my number one thing.
Business
My Business allows me to be myself, do what I want to do, be my own boss, and be independent. I really enjoy building my business and helping other businesses grow and scale.
Freedom
I also love to spend time in the mountains and in nature to connect with myself and nature, and to be able to release my energy.
Learning and Growth
Finally, I love to read, learn, and grow which in turn allows me to grow my business, be a better business coach, and be a better father to my family and my business. I read about 24-30 books
The first time job that I got was with my uncle.
In Canada, I worked at a pizza shop, delivered pizza, and I managed a pizza place.
I worked as a helper and manager at a construction company.
In 2007, I started my own construction and renovation company. This company died in 2009 after the market crash of 2008.
Then I worked at a GM dealership selling brand new vehicles. This experience was exciting for me because it allowed me to improve my sales experience and communication skills.
In 2010, I started Persyo Marketing; we did digital marketing services for a few years, helping businesses grow and scale along with coaching and training our clients.
Back in 2017, we dropped the digital services and I stuck with the training and coaching aspect of my business, teaching what I've learned from running my own businesses and helping other businesses over the years.
In 2021,  started the call center specializing in follow ups, customer retention and referrals! 
The coaching and training that I do is the result of my own experience working with many businesses over the years and helping them grow and scale into high six and seven figures.
Our best clients have established Coaches, Consultants and Experts who strive to make their mark in the world by changing other people's lives and are committed to getting up every morning and going to work to deliver value.
These entrepreneurs are our best clients!
We'd like to work with these clients, in no particular order, to help them grow and scale and make their business more profitable.  
To your massive success
Mostafa Hosseini
Creator of Simple Marketing Formula 
See what my clients say about working with me
Take a peek inside our Wonderworld
Business Technology Expert
Business Coach & Mastermind Facilitator 
Certified NeuroCoach and Mindset Coach
Ready To Grow your Business?