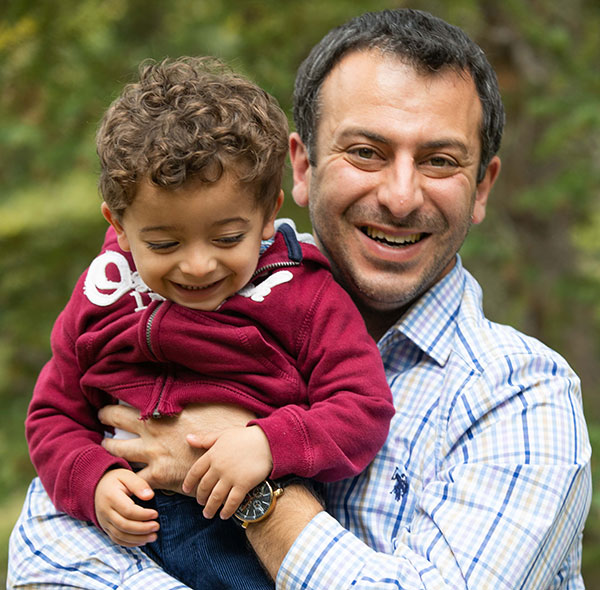 Born in Iran, I grew up in an environment where finances were usually a problem.
One side of my family were business people and the other side were all academics and engineers.
As a child, I noticed that the business people in my family were usually making more money, they were happier, they were taking more vacations, and generally, they were enjoying life a bit more.
So from an early age, about five or six, I decided that I want to grow up and become a businessman, and run my own business.
I moved to Canada in September 2000 and studied English for a couple of years.
After that, I enrolled in the engineering school at Mount Royal University. I did engineering for two and a half years and I realized engineering was not for me!
I dropped out of engineering school and got into the business school. That's when the real magic started happening.
I would show up to classes and I truly enjoyed almost every class that I had, except maybe for a few that either I didn't like the course or the instructor.
I got a diploma in marketing management and a bachelor's degree in business management with a minor in marketing from Mount Royal University.
I also have a diploma in engineering as well (a general Arts and Science diploma)
Back in 2003-2004, in Google's early days, I was exposed to the self-help world.
 I was thinking that I want to become a businessman and I want to be a damn good one.
I started looking around and tried to find answers to:
What do I need to get there?
What do I need to study?
What do I need to learn?
What skills do I need to learn?
and more. 
In this process, I got exposed to guys like Tony Robbins, Jim Rohn, Brian Tracy, and a very long list of self-help gurus and business gurus that are out there helping people grow and scale.
I learned from Jim Rohn that if you want to learn something, you have to go to the expert so he or she could teach it to you; instead of you trying and wasting your time figuring it out. Right?
He also said that successful people hire somebody to help them either as a mentor or as a coach. So I went around and found mentors and coaches to guide me with my business, and it worked!
Back in 2007, I read Rich Dad Poor Dad by Robert Kiyosaki, which was pretty much the story of my life.
I grew up in a family where finances were always a problem; my dad was working hard, going to work at five in the morning, coming back in the evening. We didn't spend too much time vacationing or spending one on one time with my dad.
The book helped me confirm my ideas about running my own business, being my own boss, helping other businesses grow, and just entering the business world.
Family
I am very, very big on family and really love my family; everything that I do is about family and my children. I love to spend time with my wife and kids. Therefore, that's my number one thing.
Business
My Business allows me to be myself, do what I want to do, be my own boss, and be independent. I really enjoy building my business and helping other businesses grow and scale.
Freedom
I also love to spend time in the mountains and in nature to connect with myself and nature, and to be able to release my energy.
Learning and Growth
Finally, I love to read, learn, and grow which in turn allows me to grow my business, be a better business coach, and be a better father to my family and my business. I read about 24-30 books
The first time job that I got was with my uncle.
In Canada, I worked at a pizza shop, delivered pizza, and I managed a pizza place.
I worked as a helper and manager at a construction company.
In 2007, I started my own construction and renovation company. This company died in 2009 after the market crash of 2008.
Then I worked at a GM dealership selling brand new vehicles. This experience was exciting for me because it allowed me to improve my sales experience and communication skills.
In 2010, I started Persyo Marketing; we did digital marketing services for a few years, helping businesses grow and scale along with coaching and training our clients.
Back in 2017, we dropped the digital services and I stuck with the training and coaching aspect of my business, teaching what I've learned from running my own businesses and helping other businesses over the years.
The coaching and training that I do is the result of my own experience working with many businesses over the years and helping them grow and scale into high six and seven figures.
Because of my success with health clinics over the years, I decided to pick the health and medical clinics as my niche.
Our best clients are passionate Health & Medical Clinic Owners who strive to make their mark in this world by changing other people's lives and are committed to get up every morning and go to work to deliver value. These entrepreneurs are our best clients!
I'd like to work with Physiotherapy Clinics, Chiropractic Clinics, and Dental Clinics, in no particular order, to help them grow and scale and make their clinics more profitable.  
Coaching Framework and Programs
I use the Rockefeller Habits from the book Scaling Up, by Verne Harnish. Scaling Up is an excellent framework that has passed the test of time and provided results for many of the world's top brands over the years.
I have also developed some of my own business systems and processes that I deliver through my courses and coaching program to my students to help them become more efficient and profitable.
To your massive success
Mostafa Hosseini
Business Coach for Health and Medical Clinics
I help Health Clinic owners and Entrepreneurs achieve business growth with a Simple Plan and a Solid Strategy
I do this by incorporating several proprietary tools and techniques and by empowering the clinic owner to work ON the business while consistently working towards reducing the owner's involvement over time
I focus on coaching the clinic owner to implement the simple plan and to identify the top drivers of the business that actually work. This allows the owner to produce measurable results, establish a strong presence in the market, and clearly represent what the company does.
I absolutely love outdoors and mountains and I am a level 2 Canadian Ski instructor. I  also read a minimum of 30 minutes per day on my favourite topics along with a long list of other things that I do as part my daily routines.
Health clinic owners including: Physiotherapy Clinic, Chiropractic Clinic, and Dental Clinic owners
If you are looking for a get-rich-quick type of program or  you are not willing to do the required work to build your business, we are not the right fit for you.
Goal Setting & Strategic PLanning / Marketing / Sales / Business Transformation / Leadership Coaching / Business Coaching /
I would like to thank Mostafa for all of his help. Working with him has been a pleasure. He is dedicated to providing high quality business coaching and will do whatever it takes to ensure we achieve nothing less than excellence. His care for high quality work is a passion of his and I highly recommend working with him. He will make you shine and make your business look exceptional next to others. I will definitely continue to work with him to bring our business to the absolute highest level. Sky's the limit. Mostafa has saved me between 2 to 5 hours / week (at least), by giving me a simple marketing plan. His daily schedule template gave me the ability to become not only efficient, but effective. I was spoon fed exactly what I needed to know and he made me realize how much we lack in the marketing department. We are taking our business to an olympian level with Mostafa's coaching and help. His information is backed up by statistics which ensures they stick. He's also fun and cares about his clients success. Thanks Mostafa!
In a 1 hour meeting with Mostafa, I learned more about marketing, and how to grow my business with actionable items that I had learned in a few years of training via books and online seminars! This has given me the confidence and trust for me to deal with Persyo on an ongoing basis!
Mostafa is skilled with business owners in developing their marketing strategy. He has a keen ability to listen and provide solutions outside the box, which result in action plans that fit the industry of the owner. His work is timely and he stays on schedule
While Mostafa certainly appreciates the importance of a long term vision, he's not a pie in the sky kind of guy. For me, who has struggled to determine what are the tangible next, bite-sized, CONCRETE steps that need to be taken, Mostafa has been a breath of fresh air. Mostafa paints the big strategical picture first, but in no time gets down to the nitty gritty of the do list. His marketing counsel is well researched and his advice is sound. I personally find Mostafa's can-do attitude to be very motivational. I would recommend (and have) Mostafa as both a marketing consultant and a business coach.
I knew I had to do something with my marketing plan for my special needs/accessible travel business but it all seemed so overwhelming! I met Mostafa and he made me feel like I could actually do this! You know how a lot of marketing feels like you are going in circles and you have no idea what the hell they just said?!? That is not Mostafa! He was very supportive and I especially liked his no BS approach! One of the biggest take aways from Simple Marketing Formula for me was the weekly homework. It was straight forward and extremely valuable in creating my marketing plan! If you actually do the work, you will gain such a greater understanding of your business, your ideal client and how you can reach them. Thank you Mostafa for this great course! I highly recommend Persyo to any small business looking for some marketing answers!