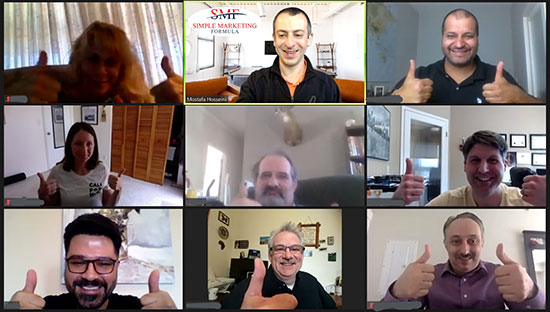 Simple Marketing Formula Bootcamp (Live)

I am big on Truth, and that's what I saw and experienced from Simple Marketing Formula week-long Bootcamp. It was comprehensive, supportive, and very interactive. No BS. You can see and feel that Mostafa not only knows what he talks about but cares that you understand and are in a position to empower your business EVEN during this COVID-19 era.
I would definitely recommend this course to anyone who is serious about their business success and wants to get all of their questions answered with regards to Marketing. In 6 days I got a years worth, it seems. Thank you, Mostafa, I will never forget your generosity in providing this course.
I just finished the Simple Marketing Bootcamp and was blown away by the simple solutions and metric-driven processes that was introduced in this course. Mostafa strategies help me see immediate results in my business.
Mostafa delivers great value, is authentic, and easy to work with. In just 6 days he helped me create a marketing plan that I feel excited to implement. I highly recommend doing his Simple Marketing Formula Book Camp
Mostafa cares about his clients' and his students' success! I just finished the 1 week Simple Marketing Formula Live Bootcamp! Excellent! Definitely worth your time & money. Packed with information you need to be clear about your market, your product, your message, your market research and how to grow your business. Highly recommended!
I just recently attended the Simple Marketing Formula class given by Persyo. It was excellent and Mostafa did not hold back from delivering value! He also did an excellent job of facilitating a large group of like-minded business owners during the course. Mostafa also brought in some excellent guest presenters that opened up whole new topics for us!